I'm Georgia, a self-proclaimed blogger with a passion for all things food, travel, and fashion, and I have recently completed a week of work experience at WCS Agency and Cardiff Life Magazine.
Before my week interning at WCS Agency, I had some experience in content creation from the making and running of my blog; however, my knowledge and understanding of the day-to-day tasks of working within a marketing agency left little to be desired.
Throughout my week of interning, I have acquired invaluable experience working in an agency setting. I have gained exposure to multiple areas of marketing and PR, including, editorial writing and research, blog and newsletter writing, social media content, copywriting, and outreach, as well as how to channel my inner Grinch (but more on that later!).
I started this week with several tasks: First, to research and draft an editorial piece for Cardiff Life Magazine. The piece was to be a style guide for Christmas party looks for the 2023 festive season. The brief was to include looks for both men's and womenswear and to shed a spotlight on independent brands within Cardiff. This task required a large amount of research to discover independent businesses in Cardiff, source images, and gain an understanding of trending fashion styles heading into this year's festive season. In addition to completing the above, I also reached out to local brands for their take on what they think we will be seeing trend-wise this winter, the answer? Sparkles, sequins, and silver, oh, and corduroy!
During my second day at WCS, I had the opportunity to assist with a Christmas content shoot, where I went into full intern mode and spent the majority of the day dressed as and embodying the Grinch (see image below). It is safe to say that whilst I may have lost all street cred, I earned valuable experience shadowing and working with videographers to achieve visually appealing and high-quality content that effectively engages the audience and communicates the brand and product being advertised.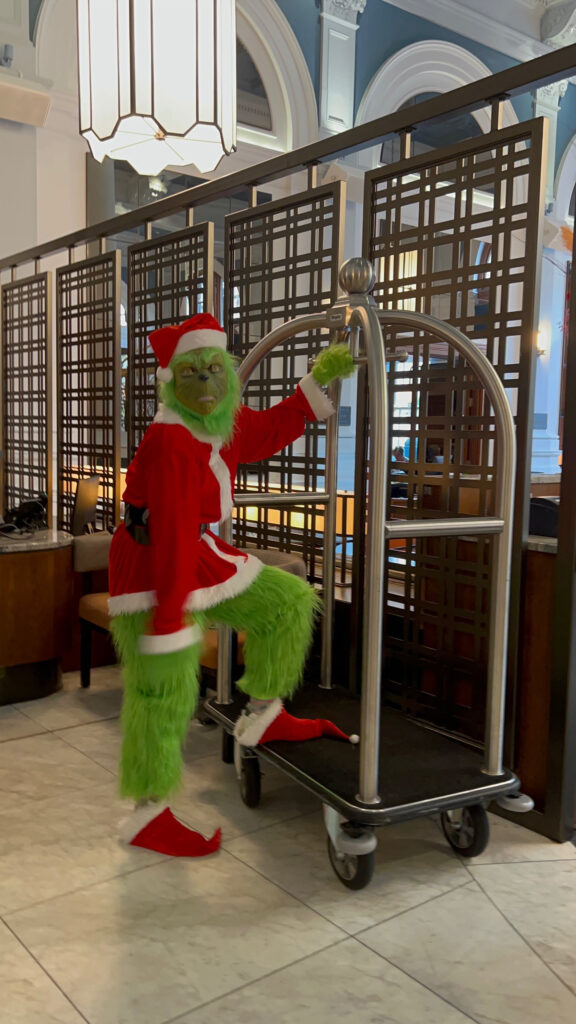 Throughout the remainder of my week, I completed various tasks, including creating content in which I utilized tools such as Canva and CapCut to curate content with brand-focused messages to be posted across the Cardiff Life Socials. In addition to social media content, I also composed several newsletters for the 'What's on Cardiff' focusing primarily on the themes of Black History Month and Breast Cancer Awareness Month. For both newsletters, I reached out to local brands and talents whose initiatives aligned with the themes of the articles, additionally, I sourced their images and drafted social media content to promote the newsletters and encourage people to join the mailing list. I was also provided with a second editorial task to carry out for the Cardiff Life magazine. On this occasion I was asked to draft a piece for the education section of the magazine, taking information provided by the client and turning it into an article that could be featured in the magazine.
And…. just like that my week at WCS had come to an end, not only has the week been incredibly insightful as to how a marketing agency runs, but it has also been thoroughly enjoyable and a hands-on learning experience equipping me with skills to take away and use in both a potential future career within marketing but also for my pages, it has also been a wonderful getting to know the team at WCS who were incredibly friendly and welcoming.
A big thank you to Chelsea and the team for accommodating me this week, it has been an absolute pleasure!